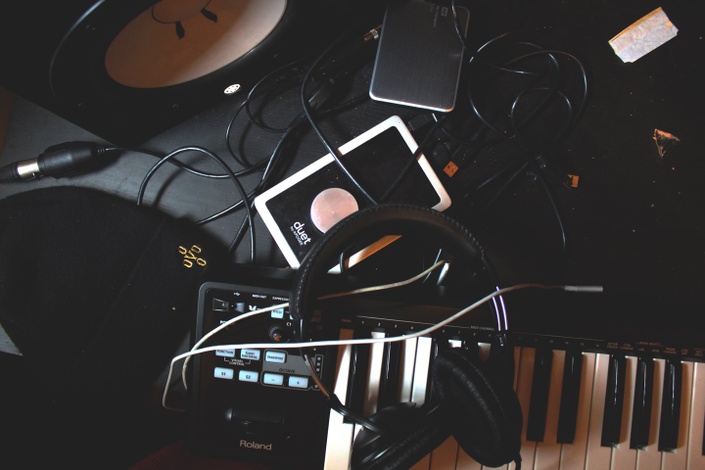 #MusicTheoryForProducers
A 24-week program to unlock all the secrets of creating BANGING songs in EVERY key. The Producer Camp Online Edition
Enroll in Course
You have the ability to create powerful music that moves millions.
Your musical sound is the most powerful piece that the industry needs, and how you creatively put it together is what will drive people to you. Producers have a gift of creating things that come to their mind and if you are strategic with how you do it, we can make music that changes the industry. What if you could send your music to someone and they are blown away by the chord progressions, melodies and sound? That's what using music theory to your benefit is meant to do.
I'll show you exactly how to easily make music theory work for you to create music that wow's your audience.
TRUST ME.
I know exactly how it feels to be worn out and frustrated after trying to create a beat in your head, and that's why I created Music Theory For Producers. I remember like it was yesterday, I had taken piano lessons and learned to read sheet music, but 'playing by ear' was foreign. I dreamt of one day being able to creating a song from ear, without sheet music.
I would go to Guitar Center and see people play all over the piano with no formal training. I felt like I knew so much yet so little. I became extremely frustrated until I figured out the key to creating music. What I learned opened my eyes to a whole new world of learning the piano. I mastered the art of using Music Theory to create your dream song. My goal is to help you break out of frustration and begin spending more time excited in the studio creating music you enjoy!


"Music Theory for Producers" will teach you a strategy to effectively learn to produce in every key!
(Prerequisite) Module 1:
Music Theory Understanding
(Prerequisite)Module 2:
Melody & Chord Techniques

(Prerequisite)Module 3:
Top Secret Chord Progressions

(Prerequisite)Module 4:

Crazy Key Changes, Minor Keys, Modulating and Circle of Fifths

Detailed syllabus will be shared.
I'm going to share with you exactly how to use Music Theory to work for you in the studio WITHOUT sheet music!
Soooo.....
Are you finally ready to get serious about being a successful music producer. Keyword is successful. It is time you make it your business and get things done. This will be the year you are ready to produce more, create melodic music with solid musical background knowledge so you can creatively produce the music you dream about.
There are over a million aspiring producers. The majority of them struggle with creating simple melodies, chord progressions or the art of creating a unique sound. Sadly, in the music industry that isn't going to work. Many of these aspiring producers are just like you - eat sleep and breathe music, have clever ideas & literally can visualize brilliant sounds the new age music would enjoy.
When you become a music producer, you certainly need creativity, but more importantly you need music theory to provide direction.
If you're ready to:
Get real, raw insight into what you can do to become successful music producer

Access to resources that will actually provide you with a blueprint to creating music

A more in depth connection learning how to play by ear

Insiders Access to me on our Producerologist Conference Calls

Access to all The Producer Camp Resources
Then here's your chance to connect and join Music Theory For Producers!
Note: This course alone is full of resources that I've invested thousands of hours in, and spent years learning (the hard way). So take advantage of what we've put together for you today, and get started by becoming a part of Music Industry For Producers Course!
Class Curriculum
Music Theory 101 Bootcamp Course (Prerequisite Course)
Available in days
days after you enroll
(PREREQUISITE) Module 1: Music Theory Understanding
Available in days
days after you enroll
(PREREQUISITE) Module 2: Melody & Chord Techniques
Available in days
days after you enroll
Upcoming Topics, Tutorials and Templates to help you…..
How to Make Music Theory Easy To Learn
Three MOST important things You Need to Create a Song
What is a Melody?
How to Create a Melody
What is a Chord?
What is a Chord Progression?
Secret Chord Code System to Create ANY Chord
Secret to making any happy song sound dark and gloomy
How to Create Chord Progressions
How to make any chord bigger
How to Successfully Create Pop Chord Progressions
How to Successfully Create R&B Chord Progressions
How to Successfully Create Gospel Chord Progressions
3 easy ways to make chords from the melody line
How to Change the Key of ANY song
TESTIMONIAL FROM THE PREVIOUS LIVE CLASSES!



















and more! Get ready for March 2019.
Your Instructor
I teach music producers how to master their craft and create music that stands out apart from their competition.

---
I've been a pianist for over two decades, and now I help thousands of music producers including Grammy Award Winning Producers, Justice League, do the same thing through non-traditional private classes, online courses and exclusive mastermind sessions. I work with music producers to help them easily and confidently understand how to make modern style music theory work for them. We put an end to mediocre music by covering the exact same secrets producers like Zaytoven, Ryan Leslie, Bryan Michael Cox, Kanye West, Alicia Keys and many others use to create powerful chord progressions and melody lines.
Frequently Asked Questions
When does Music Theory for Producers course start and finish?
The official course begins March 2019. You can begin the pre-requisite as soon as you purchase along with 15+ page workbook.
How long do I have access to Music Theory fo Producers course?
How does lifetime access sound? After enrolling, you have unlimited access to this course for as long as you like - across any and all devices you own.
What if I am unhappy with Music Theory for Producers course?
We would never want you to be unhappy! If you are unsatisfied with your purchase, contact us at producer@ladysonyamusic.com with any questions or concerns. Unfortunately, all sales are final after purchase. If you are unsatisfied with the course and can prove what you learned has not worked and have done the workbook, we'll be happy to give a course credit within 24 hours of the course.
How long is the course?
The course is broken into 24-sessions. After your 24th session you'll officially know how to produce in any key on the piano.